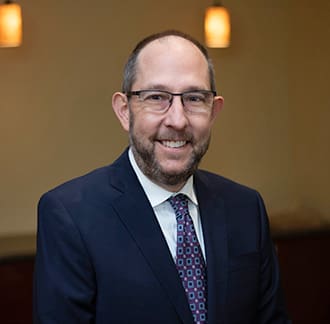 Steven D. Halpern
CPA
About Steven
Steve has over 25 years of professional experience and has dedicated his practice to providing accounting, auditing, advisory and consulting services to financial institutions throughout the region. He is a graduate of University of Delaware and has a Bachelor of Science Degree in Accounting.
Steve is a member of the American Institute of Certified Public Accountants, Maryland Association of Certified Public Accountants, and the Financial Managers Society.
Expertise
Steve is a leader on YHB's community bank and employee benefit plans practices.  In this role, Steve is responsible for assuring the highest quality service to clients served in these industries.  Steve also serves as technical reviewer for the Firm's FAR overhead audits performed for engineering firms as well as the Firm's internal audit engagements.
His specialties include: 
Financial Statement Audits
Public Company Audits
Employee Benefit Plan Audits
SEC Financial Reporting
Temporary CFO Services
Other Interests
Steve has completed Maryland Bankers School and was President of the 1997 graduating class. He also served on the Board of Directors for Federal Hill South Neighborhood Association and Glenwood Life Counseling Center. 
·   ·   ·   ·
What Clients are Saying
"Steve does a great job and is always available for us to bounce ideas around." – Renee L.