YHB has been working to allow our clients to work with any YHB team member easily and securely from anywhere in the world. We have been diligent in developing systems to continue providing exceptional service to you, regardless of the method you choose to use. Our goal is to provide the tools and knowledge needed to make partnering with YHB as easy and safe as possible.
---
SafeSend™ Returns
We are pleased to offer our clients the ability to automate the delivery, review, and signature of your federal and state individual income tax returns through SafeSend Returns™. User-friendly and highly secure, SafeSend Returns™ is an easier way to manage your tax return. The process is simple: Verify your identity, enter an access code, and follow the step-by-step instructions.
The Benefit to You:
You will be able to electronically view, sign, save and print your tax documents.
You will have access to your tax return for seven years.
You will be able to receive estimated tax payment reminders at a schedule of your choosing.
You can securely forward your tax documents to anyone you choose, such as a bank.

For Individuals
SafeSend Returns™ saves you time and allows you to e-sign your 1040 and 540, receive estimated tax reminder emails, and pay your taxes and your invoice directly from your device.
For Businesses
SafeSend Returns™ allows you to download, sign and conveniently distribute K-1's electronically. This saves you time so that you can focus on what really matters, your business!
Environmentally Safe:
SafeSend Returns™ is another way to go green. No more ink, postage or paper which is great for our planet and future generations to come.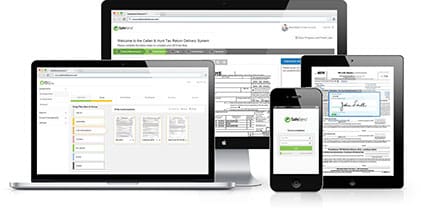 ---
How it Works
Those who qualify will be able to review their tax return, sign their e-file authorization form(s), and return it quickly and securely to their YHB professional, directly from the SafeSend platform.
The process is easy and works as follows:
1. You'll receive an email from noreply@safesendreturns.com or noreply@safesend.com.
2. YHB will be indicated in the email.
3. This email will contain a safe link for you to access your tax return.
4. You'll be prompted to enter the last four digits of your Social Security number in order to review your return.
5. Then, SafeSend will email you an access code to further verify your identity. Check your spam or junk folders if you don't see it in your inbox. You must enter the code within 10 minutes of receipt. If the code isn't entered within 10 minutes, you can request another.
6. When you're ready to sign your e-file authorization form(s), you'll be asked three simple questions to verify your identity.
7. Once you've signed the e-file authorization form(s), your YHB team member will be automatically notified and will complete the rest of the e-file process.
---
How to get Help
We understand many of these processes will be new for most of our clients. Should you have any questions or require assistance, we encourage you to contact your YHB team member or contact our client success team at support@yhbcpa.com or 1-800-495-4910.
---
Hybrid Options
YHB offers the option for you to submit and sign documents electronically in addition to delivering some documents via mail or in-person. To accomplish this, we utilize the below software:

ShareFile
YHB has the ability to send and receive files using a secure file transfer portal known as ShareFile. This option eliminates the need to mail or hand deliver sensitive documents. Your YHB team member can send you a secure link to send files or you can visit YHBcpa.com/client-portal to transfer documents to us.