Industry Expertise, Timely Service
Running a successful architectural, engineering and construction (AEC) business takes more than good tools and hard work. It requires the assistance of professionals who know the industry and can help you operate more efficiently and successfully.
For decades, YHB has been providing tax, accounting, auditing and consulting services that help AEC clients do exactly that. Because AEC are a main focus of our firm, we've developed great expertise in anticipating and meeting the needs of businesses like yours.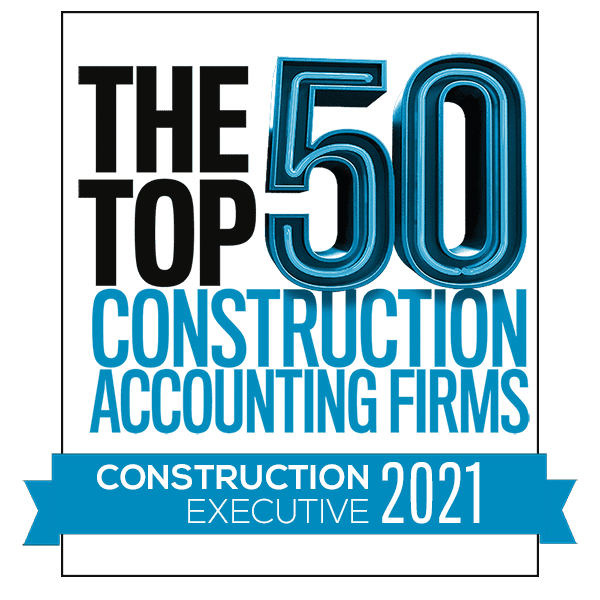 Named in The Top 50 Construction Accounting Firms
YHB has been named in Construction Executive's The Top 50 Construction Accounting Firms™ ranking. Construction Executive's The Top 50 are ranked by U.S. net revenues and are compiled by analyzing hundreds of responses received for CE's Survey and Analysis of Firms.
AEC Accounting Solutions that Work for You
We build teams and solutions customized to meet your needs and prepare you for the future.
Solutions to Help You Succeed

At YHB, we build teams tailored to your goals. Because truthfully, we've never been comfortable with uniformed solutions. Instead, we pull from our collective expertise to design a sophisticated blueprint for your financial future.
Engagement Team Continuity

Because our turnover is low, you'll be served by many of the same professionals throughout an engagement and over the years. This means you won't have to explain what your organization does to new staff each year.
Scalable for the Future
We offers a full range of scalable controller or CFO services that can be right-sized to meet your needs. And once we've determined the kind of services you need, you can count on a predictable fee and continuity of service.

We Know the Industry
To stay on top of industry trends and issues, we are active members of the Construction Financial Management Association, Associated General Contractors, Associated Builders and Contractors, the Construction Industry CPAs/Consultants Association and local chapters of the National Association of Homebuilders. We are also continually refining our technical knowledge by participating in various training and continuing professional education programs.
As a result, YHB is ready to help you build your success with services that include:
Audits, reviews, and compilations, including Federal Acquisition Rate (FAR) audits
Tax planning and filing
Historic Property Rehabilitation Tax Credits
Energy-Efficiency Tax Credits
Strategic Planning, business valuation, and M&A assistance
Succession and estate planning
Cost-segregation studies and fixed-asset depreciation records
Selecting the best organizational structure and accounting method
Bonding and surety analysis, and operational reviews
Payroll tax services and employee benefit plans
Risk management and litigation support
Computer hardware and accounting software selection
---
Monitoring services allow you to understand how your company compares to others in your industry, how this year compares to last year, and how third party users, like banks and bonding companies, interpret your statements.  Monitoring services include:
Trend analysis and benchmarking
Contract schedule design, reconciliation, and analysis
Financial statement interpretation and analysis
Management meetings to communicate and implement recommendations
---
Advisory services are designed to maximize your financial and tax positions.  Management snapshots help you negotiate the vast amounts of information generated by today's technology. Social media posts and monthly newsletters keep you connected. Advisory services include:
Tax reduction and deferral
Financial management including cash flow analysis, budgeting, and projections
Project management insights through performance and job analysis
Equipment management advice through depreciation strategies, costing and allocation
Accounting system and software assessment, design, and monitoring
Debt analysis and negotiation
Inventory management
Bond enhancement