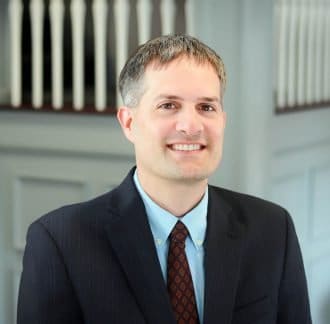 Joshua C. Kerr-Hobert
CPA
About Josh
Josh began his career at YHB in 1999, after earning a B.B.A. from the College of William & Mary. He is a member of the American Institute of Certified Public Accountants, the Virginia Society of Certified Public Accountants and a previous member of the Blue Ridge Kiwanis.
Experience
Josh has provided income tax and advisory services to a broad range of business and individual clients with complex needs for 18 years.  He has worked his entire career at YHB, having spent his first 12 years in the Winchester office and the last 6 years in the Middleburg office.  In addition to serving clients, Josh provides mentoring and training for YHB staff members and is a member of the firm's Human Resources Committee.
Expertise
Josh specializes in helping individuals implement strategies that minimize their income tax liabilities and achieve their personal and business financial objectives. As a professional certified in strategy and performance management, he also excels in empowering business owners with information and insight that improves their decision-making process, maximizes their profitability and gives them a better sense of where they want to go and how to get there.
Josh is proud to provide his clients with the following solutions:
∙ Income tax planning and compliance for individuals and businesses
∙ Bill payment, financial reporting, and budgeting
∙ Vendor billing oversight including large projects such as home construction
∙ Wealth transfer planning
∙ Charitable contribution planning and tracking
∙ Private foundation administrative support services
∙ Equine business tax and consulting services including audit support
∙ Tax credit consulting services
∙ Document storage including client portal facilitation
Approach
Josh focuses on helping clients achieve peace of mind.  His service approach is customized for each client, resulting in close and highly individualized working relationships.  Josh takes pride in making complex financial matters easier to understand, in order to help clients with financial decision making and achievement of their goals and objectives.
·   ·   ·   ·
What Clients are Saying
"Strong capability, combined with great team spirit. Our main contact, Josh Kerr-Hobert is an outstanding asset to our lives and family foundation. Not only is he brilliant and communicative, but he speaks English, not accountant-ese, which is truly appreciated. He is also a great human being and works well with others in our team, whether lawyers or financial advisors. Cannot express strongly enough how much we value him and his team. Thank you!" – Anonymous