As we turn the page and are now well into 2020, your team at YHB is already running full speed ahead. We kicked off the year with the acquisition of Woodcock & Associates, P.C. in Fredericksburg, VA, a CPA firm recognized for its construction industry consulting expertise. With this acquisition, YHB now has eight locations across Virginia.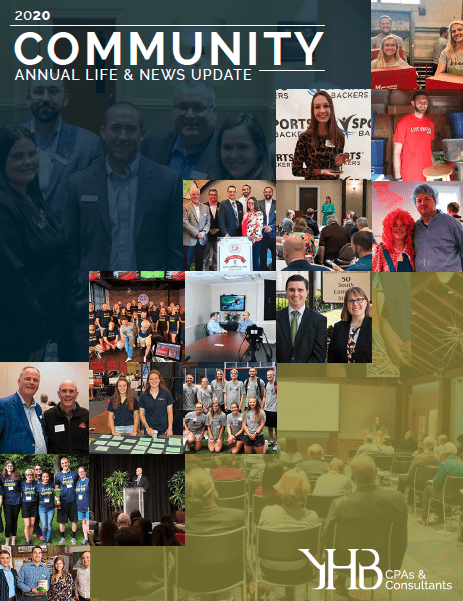 However, we, like most people, paused for a moment before jumping into 2020 to reflect on 2019. Last year was a busy time here at YHB. With significant tax law changes, welcoming our new Falls Church office, to the promotion of four new principals; it has been an exciting time. While these are all wonderful accomplishments as an organization, what is most exciting to me is witnessing our dedication in action.
For us, what we do is so much more than accounting, auditing or wealth management. To summarize our purpose, I would state these two pillars:
1.  Community. We live for our community. The hardworking, tenacious individuals who entrust us with this tremendous responsibility. The dreamers, thinkers and doers – owners of businesses both big and small, non-profit organizations who live and breathe their mission and individuals who fight to make this region better each day. 
2.  Assurance. We provide our clients peace of mind and future building solutions. We listen. We learn. We strategize. We build teams centered around your intentions – pulling from our collective expertise to discover the right path going forward.
YHB is a committed, mission driven organization. We understand the weight and responsibility entrusted to us by our clients, community and internal team members. These stakeholders are what drives us forward.
In this year's annual newsletter, we wanted to share with you highlights from 2019. We are incredibly proud of the work our team members are doing throughout the region to live out this purpose. As we dive head first into 2020, we pledge to continue our dedication to trust and excellence by finding tangible ways to live out those promises.
Thank you for allowing YHB to be part of your community. 
– Scott Moulden | Managing Partner
---