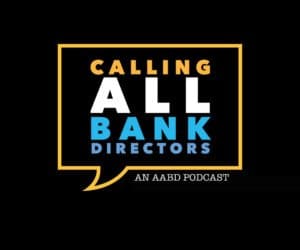 On June 29th, Principal Kim Belcher appeared on Calling All Bank Directors, the podcast of the American Association of Bank Directors. She joined host and AABD President David Baris to discuss qualitative and other factors to consider under the incurred loss model for determining the appropriate loan loss Allowance in a transitional period. Listen to Calling All Bank Directors Episode 7: How to Establish the Allowance in a Transitional Period here.
Calling All Bank Directors is available on Apple Podcasts, Spotify, Google Play, Stitcher, or wherever you get your podcasts.
---

Our large Community Bank Team focuses exclusively on serving financial institutions of all sizes.