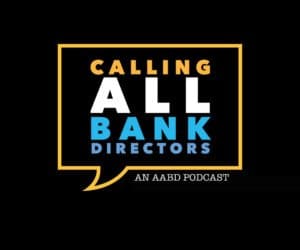 On June 15th, Principal Tom Milburn appeared on Calling All Bank Directors, the podcast of the American Association of Bank Directors. He joined host and AABD President David Baris to discuss the role of a bank's Board Audit Committee in overseeing management's review of a bank's Allowance in periods of transition or unprecedented events. Listen to Calling All Bank Directors Episode 5: Your Audit Committee – What should it be doing on the Allowance in a challenging time? here.
Calling All Bank Directors is available on Apple Podcasts, Spotify, Google Play, Stitcher, or wherever you get your podcasts.

Our large Community Bank Team focuses exclusively on serving financial institutions of all sizes.