CJ Freedman is a 2019 graduate of the University of Lynchburg (previously Lynchburg College) and a first-year audit associate in our Richmond office.  CJ majored in accounting and was introduced to life at YHB during his 6-week internship the summer after his junior year.  Following his internship, CJ accepted our job offer to join YHB as an Associate. We asked CJ to speak about his internship experience and how he knew YHB was the right place for him.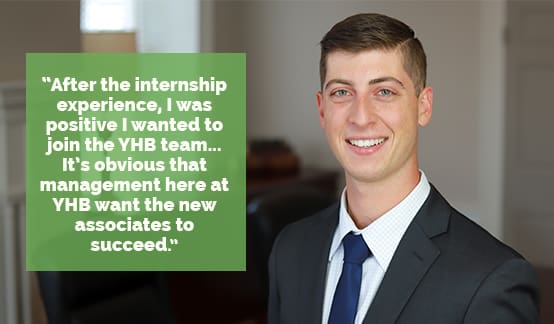 Talk about your internship experience.
My internship at YHB was a great experience because it was a chance to finally get out of the classroom and gain real world experience. While I was nervous at first, those nerves immediately subsided after speaking with the HR team and many of the staff here in Richmond. Everyone I interacted with was so welcoming to the interns. I felt like the staff understood that we were nervous and lacked the accounting knowledge they had because they were once in our shoes. There were 12 interns in total and we all got along great. Even though we were spread out across the different offices, we did get together to do a variety of team building experiences that were a lot of fun. We also were given opportunities to visit other offices throughout the firm so we could meet more staff and participate in different activities with them. While it was fun to go to TopGolf and tour a whiskey distillery, it was really interesting for us to visit some of the firm's clients and hear more about the working relationship they had with each other. At the conclusion of the internship, I was fortunate to be offered a full-time position.
Why did you decide that YHB was the right firm to begin your accounting career?
After the internship experience, I was positive I wanted to join the YHB team. One thing that really stood out to me right away was how they treat first year associates. First year associates are provided an opportunity to work in a variety of areas rather than focusing heavily in one area. They can experience both tax and audit before deciding how to specialize. It's comforting to know that even as new associates, we are given opportunities to help us determine the path we want to take for our future career. I also like that YHB has an open-door policy. At larger firms, you may not have the opportunity to work directly with partners but at YHB, managers and partners are always available to speak with you whenever you have a question or be mentors to you. It's obvious that management here at YHB want the new associates to succeed.
How has your first month at YHB compared to schooling?
Honestly, after working for about a month, I can say that the job is much different than school. In school, we mostly learned about what we will do. It's completely different actually speaking with clients, doing audit field work, preparing real tax returns, and working with a team to achieve a common goal. You can't really practice that stuff in school. School laid the foundation and gave us the hard knowledge but now we get to put everything to practice and continue to learn to become the best accountants we can be.
Right now, you are on the audit team (with some tax responsibilities). What made you lean more towards audit?
Coming in, I told YHB I was leaning more towards audit because I enjoy the type of work and travel opportunities that come with auditing. I am excited to visit different clients in a variety of industries and learn how businesses operate from a financial perspective. I'll be given opportunities to travel with the audit team while also gaining some tax experience during busy season. I'm fortunate that I'll be exposed to both fields in this first year.
What are your goals for your first year?
My major goal for the first year and probably biggest piece of advice for any new associate and intern is to be a SPONGE. Absorb all the information you can, ask questions, and don't be afraid to try things you may not be comfortable with. Like I said, the staff here at YHB knows that a new associate lacks experience. I've already had multiple people say, "I'd be concerned if you weren't asking questions."
My other goal is to pass the CPA exam. For anyone who hasn't started the CPA exam experience, it's a hard journey. I still have a long way to go, but I recognize the important of studying and passing the exam as early in my career as possible. Staff members have told me that the longer you are working, the harder it becomes to pass the exam because as you start to acquire more responsibility and you have less time to prepare. Along with these goals, I am excited to meet new people, make friends in the office, and to just grow as an accountant and in life in general!

If you're interested in learning more about our career opportunities or internships at YHB, visit https://yhbcpa.com/careers/college-entry-level/ or email our recruiting team at info@yhccpa.com with your resume and unofficial transcripts.