Falls Church Address
3110 Fairview Park Dr,
Suite 1100,
Falls Church, VA 22042
703.237.2500 – Phone
703.237.3616 – Fax
Hours
Mon – Friday | 9:00am – 5:00pm
Please contact our office if these hours do not work for your schedule. We are happy to facilitate alternative arrangements.
---
Parking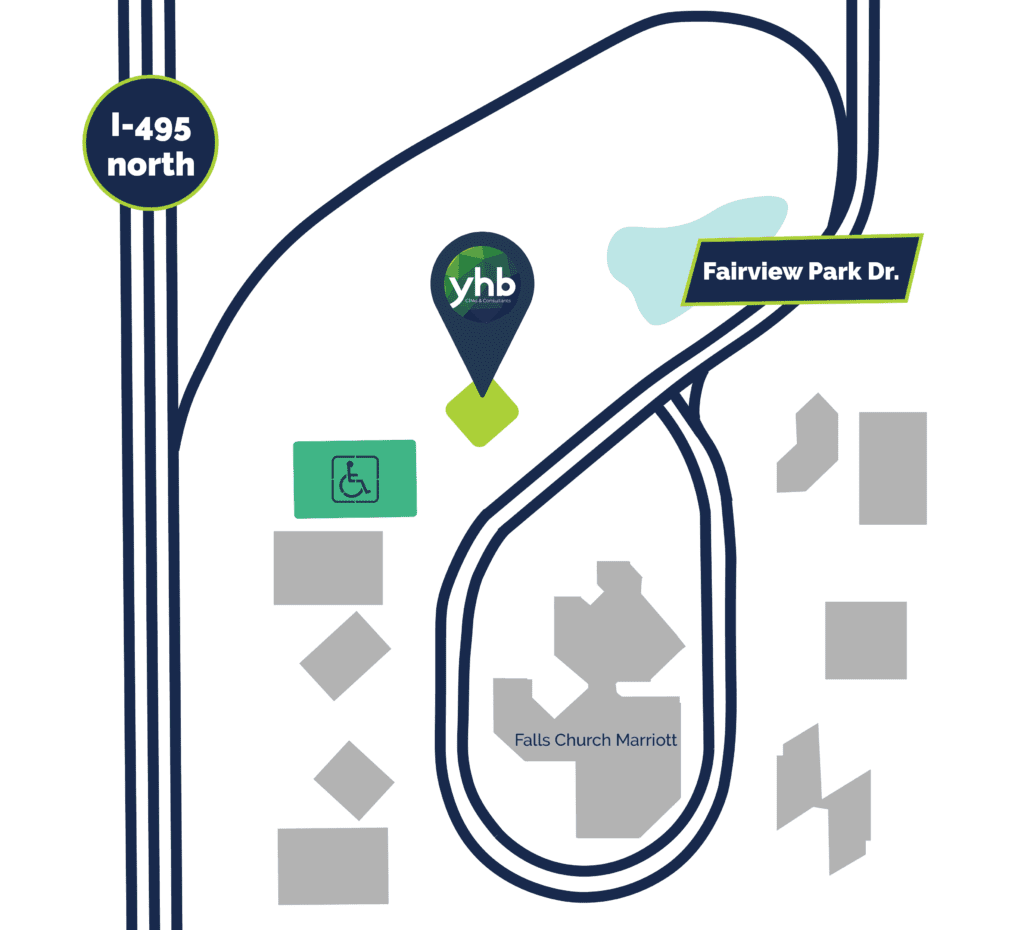 While there is ample parking at our new office, we wanted to clarify the parking options. There is visitor parking conveniently located in the front of the building. However, this entrance is not handicapped accessible.
To access handicapped parking, please make the first right after passing the building into the parking garage. Use the handicap spaces, located right inside that entrance and follow the covered walkway into the building. If you park on another level, you will need to use the elevator.
If you have any questions or concerns about getting to the new office, please do not hesitate to reach out.
---
YHB is a leading certified public accounting and consulting firm in Falls Church, Virginia. Established in 1947, YHB offers comprehensive accounting, auditing, tax, wealth management and risk advisory services to clients. In addition to serving individuals, estates and trusts, the firm has extensive experience in working with both public and private businesses.
At YHB, we are more than just a tax accountant in Falls Church, we are your trusted advisor. Providing solutions to help you grow confidently.
Tax Advisory: There's no need to sweat out Tax Day. Bring your receipts and records to us and we'll show you all eligible deductions and help you file on time.
Bookkeeping Services: Whether you're a one-person operation or have multiple locations throughout the city or state, YHB is here. We'll keep track of your expenditures, payroll, and profits so you can concentrate on your customers and their needs.
Software Implementation: Transitioning to a new accounting system? Overwhelmed by all the options? We can consult on the right program for your personal or professional needs.
Financial Statement Audits: We don't just present an audit report. We explain what the numbers and findings mean, so you can use them to make better business decisions.
YHB has served families, estates and trusts, nonprofits, and businesses in the retail, healthcare, and other fields for over seventy years. We are proactive in the guidance we provide clients, and are ready to answer your tax and accounting questions and concerns.
---
Falls Church Address
3110 Fairview Park Dr,
Suite 1100,
Falls Church, VA 22042
703.237.2500 – Phone
703.237.3616 – Fax
At YHB our mission is simple – Dedicated to Trust and Excellence. We are laser focused on helping our clients succeed and will work hard to earn the right to be your trusted adviser.