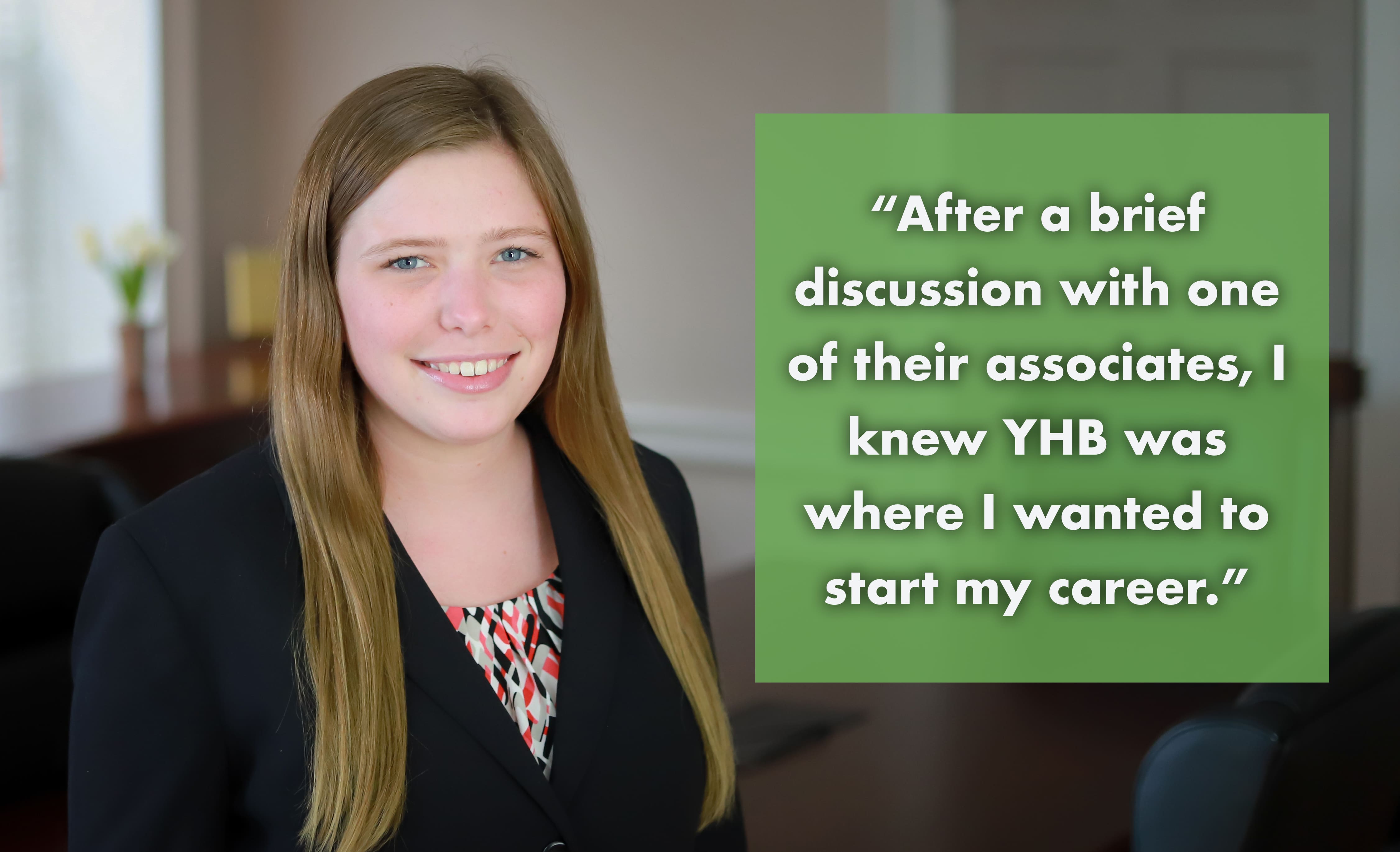 Connor Edwards started with our YHB family this August after graduating from Virginia Tech in May. She joins alongside other recent college grads who are eager and excited to begin their accounting career. After recently being named on the 2018 Top 100 Best Accounting Firms to Work For List, we decided to sit down with one of our newest employees and hear about her experience so far at YHB.
How did you find out about YHB?
I first discovered YHB at Virginia Tech's Business Horizons Career Fair. Still undecided if I even wanted to be an accountant, I walked up to their table and introduced myself. After a brief discussion with one of their associates, I knew YHB was where I wanted to start my career.
What set YHB apart from other firms you talked with?
My internship experiences were not with accounting firms so I knew I was not ready to determine my specialization. Most CPA firms, regardless of size, want new staff members to decide right away between the audit and tax department but YHB is different. Their Associate Pool was a huge selling point to me because I loved the idea of being able to work on both tax and audit projects in the beginning.
Can you tell those considering YHB about the Associate Pool experience?
The Associate Pool gives new associates the opportunity to explore various industries and services and gain understanding beyond what the classroom could provide. There is time to meet with the various teams throughout the firm which helps us picking an industry that excites us and motivates us to further our professional development. You can tell that the veteran employees are still passionate about what they do because they were given opportunities to pursue what they enjoyed.
Can you touch on the YHB culture and what it is like being an employee here?
In addition to the associate pool, I was instantly attracted to YHB's family atmosphere. The offices are small enough to know everyone by name and there are different opportunities throughout the year where all the offices come together and spend time with one another. I was also impressed with how much smaller the staff turnover rate is compared to other larger CPA firms. When several different principals tell you they have been at YHB since they were an intern, that says something about the company culture.
What do you think is something unique to YHB that sets us apart from other firms?
I would say the biggest way that YHB shows it genuinely cares for the success of its employees is by its Leadership Circles. These groups of three to five firm members are your direct line for feedback and support. Our circles care about us and also help us get the training and work experience we need to achieve our career objectives. From day one we are introduced to our circles and I find this concept very unique and beneficial to professional growth.
If you're interested in learning more about our career opportunities or internships at YHB, visit https://yhbcpa.com/careers/college-entry-level/ or email our recruiting team at info@yhccpa.com with your resume and unofficial transcripts.