The Economic Impact Payment (aka "Stimulus Payment) – Debit Card Debacle
If you are like me, the first thing you do after leaving your mail "rest/sanitize" for 24-hours is to weed out the junk. Well, if you have not yet received your Economic Stimulus Payment, you may want to open all envelopes right now, and be extra careful in deciding what to keep and what to toss. You may be one of the "Lucky" last tier recipients that is now receiving the wonderful "Debit Card" (and, in case you cannot infer my tone, I am being sarcastic).
The first wave of EIPs came as automatic deposit to a bank account, the second wave turned to checks, but now, someone at the Treasury decided to jump on the Debit Card band wagon. Unfortunately, the individual taxpayers in this last wave (which are probably some of the most in need and vulnerable) now have to deal with the added complications, and potential costs and fees, of a debit card. However, for people without a personal checking account, the debit card is a better option.
For those in this last wave of payments – be on the lookout for a very unassuming and unlabeled envelope arriving at your home and, please, do not discard it. I'm hoping to outline a few steps you can take to quickly convert your economic stimulus into the cash payment you have been expecting, and probably need to assist in meeting your financial obligations during this very difficult time.
The Envelope:
There are no labels or notices on the envelope that identify this as a payment from the IRS or Treasury. The return address will be "Money Network Cardholder Services". DO NOT THROW THIS AWAY!
The Card:
Below is a picture of the card. This is not junk mail. This is your stimulus payment, and can be converted to cash.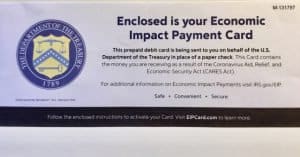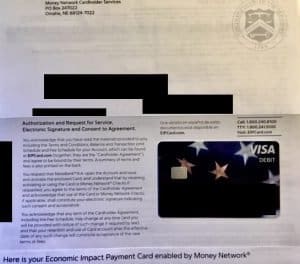 What to do next – Activation
Inside the envelope, there is a number you must call to activate your card, and set up your 4-digit PIN.
Before calling, decide on your 4-digit PIN. Do not use personal information as your PIN (so, not the last four of your social security number OR the year you were born). Maybe choose something like the 2-digit month, and 2-digit day of your best friend's birthday, or perhaps a word that coordinates with the digits on the phone.
Information to have ready: your social security number and the 16-digit number on the card.
Follow the instructions on the automated call to set up your PIN.
At the end of the call, you will be given the balance on your card. Be sure to write this down.
Sign the back of your Card once activated.
Now What?
Your card is activated, you know your balance and you have your PIN. So, how do you use the funds?
Spend it anywhere VISA is accepted: in-stores, online or by phone, including paying most bills. For more information on this option, please see www.eipcard.com/faq. Each purchase you make is deducted from your balance. You will most likely need to track your balance so you know how much remains available for future purchases.
Transfer funds to your personal checking account: This can be accomplished either by registering online at www.eipcard.com to set up an account, or you may take it to your bank for a teller over-the-counter withdrawal.

Transfer online:

Go to www.eipcard.com and register. You will need information from both the front and back of your card, as well as your personal SSN, email, phone number, and the balance on your card provided when you activated your card.

Choose a password – must have uppercase, lower case, a number and a symbol

A "validation" code will then be sent to your email to confirm your identity.

At that point, you can log in and choose "MOVE MONEY OUT" and follow steps to move your stimulus payment to your checking account. You must have your personal account routing number, bank name, and account number close by.

There is a limit of $2,500/transaction/day. And you can only move $5,000 maximum in one month.

CAUTION: you will be asked if you want future emails, promotions, etc. These are automatically checked yes, so if you do not want this, be sure to "UNMARK" these options.

Transfer at the Bank: Visit your personal bank to transfer the funds as a "counter withdrawal". Again, the daily limits apply and the first withdrawal at the bank is free.

ATM Withdrawals are allowed, but there are fees for "out-of-network" ATM operator (waived for first withdrawal) and limits on the amount of each withdrawal. See the fee agreement included with your card or online.
**As always, be cautious giving out personal information online or over the phone. Be sure you know who you are talking to and be extremely suspicious if you were not the person making the phone call. **
Once you get through the initial set up of your card, most items are "fee-free" and your funds are readily available. Please note the limitations on daily transfers and ATM withdrawals either noted above, or in the cardholder agreement. Refer to www.eipcard.com for additional information.
The roll out of EIP debt card in this final stage has been cumbersome, to say the least. The change in the delivery method may be a bit more cumbersome, but please do not toss it in the trash with your junk mail!
If you have any questions, please do not hesitate to contact us.