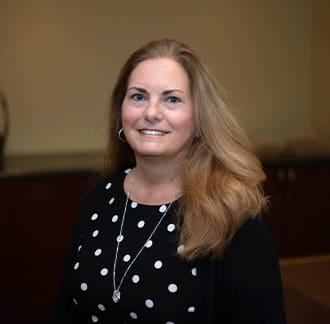 Darlene D. Gerstmyer
CPA
About Darlene
Darlene is an industry leader with over 35 years of experience. She manages independent audit engagements for credit unions and community banks. and also serves as the engagement quality reviewer on many of the Firm's audits. She is a graduate of Loyola University Maryland with a Bachelor of Business Administration degree in accounting.
She is a member of the American Institute of Certified Public Accountants, the Maryland Association of Certified Public Accountants where she served on the Cooperation with Financial Institutions Committee and served and chaired the Women's Career Issues Committee, the Association of Certified Fraud Examiners, and the Risk Management Association (RMA).
Expertise
With her vast expertise, Darlene has become a leader in the area of internal auditing and regulatory compliance.  Her services are designed for maximum flexibility, allowing you to utilize her specialties for one specific project or on an ongoing basis. Darlene enjoys teaching and has developed and presented various accounting educational programs for financial institutions.  In addition, she conducts specialized training sessions on various topics including oversight/governance, lending, and internal controls.  She has appeared as a speaker at a national conference discussing the importance of internal controls.  She frequently speaks at Career Days for students.
Her specialties include: 
Internal Auditing Services
ACH Compliance Examinations
BSA/AML Compliance Examinations
Regulatory Compliance Consulting
Financial Statement Audits
Supervisory Committee and Director Training
Public Company Audits
Fraud Audits
Verification of Accounts
Temporary CFO Services
Other Interests & Awards
A fan of musical theater, Darlene has appeared in a number of productions with various community theater groups. She is an active supporter and volunteer for the Blackfriars Theatre program with Archbishop Curley High School.
Darlene and her husband have chaired and remain actively involved with the annual galas for The Catholic High School of Baltimore and Archbishop Curley High School, their alma maters. Darlene is a current member of the Finance Committee for St. Isaac Jogues Parish and is the past treasurer for the Immaculate Heart of Mary School's Home and School Association.
Darlene was awarded the Mother Generosa McCafferty Distinguished Alumna Award from The Catholic High School of Baltimore in 2015. 
Darlene and her husband, David, were awarded the Archbishop Curley Cornerstone Award in 2019 for their dedicated volunteerism to the school.