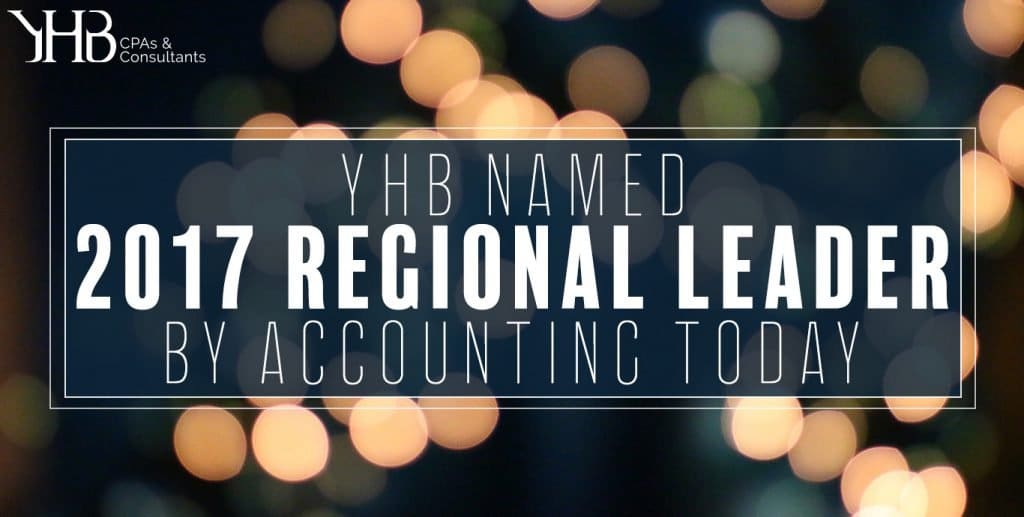 YHB has been named in Accounting Today's 2017 Top 100 Accounting Firms annual publication, as one of the top regional leaders in the Capital Region (Delaware, Maryland, Virginia, Washington, D.C., and West Virginia)
This announcement continues YHB's stronghold as a regional leader throughout the Mid-Atlantic and Capital Region. YHB has appeared on the list nearly as long as the survey has been collected, reaffirming our commitment to clients and the communities we live and work in.
Accounting Today is the leading information resource for public accountants, reaching over 325,000 professionals in all areas of the accounting industry. The organization publishes their Top 100 Firms and Regional Leaders report annually, ranking the leading practices based on their performance in the previous year, as well as highlighting strong firms in regional groups that exist beyond the Top 100.
For more information on Accounting Today's 2017 Top 100 Firms publication, please click HERE.