Have you heard of Pokémon Go? It's a popular smartphone video game that uses Google Maps technology. The augmented reality game pinpoints locations of virtual Pokémon and "PokéStops" in the real world on a map shown on a player's phone. But it's more than just a game — some savvy organizations are also using it as a marketing tool. Here's how.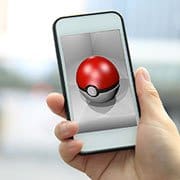 Who's Playing?
People aged 18 to 34 years are by far the most likely to have downloaded the app, followed by those aged 13 to 17. So it seems a good idea for businesses to target Pokémon-related marketing at Millennials, whose spending power continues to grow
If you run a business, this newest global craze can work to your advantage. Some businesses, as well as government agencies and libraries, are using the smartphone game as an inexpensive marketing tool. Pokémon puts its critters in the real world and you may be able to use this to attract customers.
Here are a few examples of how the game has worked its magic for various entities:
A travel agency offered a free Pokémon tour. The guided trip let players explore the city using Pokémon Go, taking them to six pieces of public art and a stop at an ice cream shop.
A mileage-based charity app has cashed in on the fad by encouraging players to log in and leave the app open in the background while they're hunting Pokémon. The farther players walk, the more money their designated charities earn.
A restaurant hosted a lure party with Pokémon themed drinks; another offered discounted drinks if trainers placed lures at its location.
If you doubt the power of the Pokémon Go craze, consider this: A New York pizzeria saw revenues jump 75% one weekend after spending $10 to have a dozen Pokémon lured to the location at peak times.
You don't need to be a for-profit business to benefit from the power of Pokémon Go. For instance, some libraries are marketing themselves as all-in-one PokéStops, where trainers collect essential Pokémon Go items, such as Pokéballs and Eggs, and then hook into free Wi-Fi and charging stations. (The app uses a significant amount of your smartphone's battery and eats up your monthly data package.) This is a creative way to get young people to sample the library's resources, including good, old-fashioned books and magazines.
How Does the Game Work?
So how can your business take advantage of this inexpensive marketing powerhouse? Here's a primer to help you get your feet wet:
1. Pokémon Go players take on the role of a trainer who travels about searching for little critters, called Pokémon, and capturing them with the Pokéballs. Trainers are the people you see walking around town, staring at their mobile phones and tapping the screens.
2. The captured Pokémon can battle with each other.
3. Digital lures are dropped to attract Pokémon to a specific location.
4. PokéStops generate PokéBalls and Eggs and are typically located at select places near your business, such as historical markers, monuments and art installations.
5. PokéGyms are the battleground of Pokémon and are usually at places where people generally congregate, such as churches, parks and monuments.
Can You Cash In on the Craze?
For starters, business owners should find out if your location is at, or near, a PokéStop. To do this, download the free app, open it at your business and look for a big blue circle in your immediate vicinity.
If you have the good fortune of being situated in or around a PokéStop or Gym, you have a major marketing tool at your fingertips. Take advantage of it and drop a lure. These increase both the rate of Pokémon generation and foot traffic around your establishment.
The lures last for half an hour and cost around $1.39. You also can let trainers know on your social media outlets that your business is near a PokéStop and lure them with discounts if they drop a lure at your business.
Trainers rush to active lures and while they're waiting for Pokémon to show up they may become bored, tired, hungry or thirsty. You can see the advantage there.
Lures may currently be one of your most important purchases. Coffee shops, ice cream parlors, restaurants with patios, pizza places and other places catering to impulse buyers have been successful with this strategy.
But these aren't the only businesses that can benefit. In New York City, for example, a realty group has started listing retail properties with the power of Pokémon. One ad reads, in part: $9,500/5br – 1500ft2 – near major pokestop**.
Word of advice: As the radius of a lure is extensive, players can catch Pokémon without entering your business. Consider putting up some signage, such as, "Catch a Pokémon inside and get a 10% discount."
Gyms can become particularly busy spots, and owners may need to be creative. Trainers often join others to form teams to battle other teams for control of the gym. Battling teams stick around for a while as they win, lose or win the site multiple times. But they tend to be very preoccupied with the game.
Consider a sandwich board to keep score and announce that members of the team currently controlling the gym get discounts. You can also take screenshots of the game and post them on your social media with hashtags, such as #pokemongo and #pokemon to attract trainers who might not otherwise know about your business.
If you aren't at either a stop or gym, set up an event, such as a barbecue or a sidewalk sale, and advertise it, noting that there are Pokémon nearby. Both the Edmonton Eskimos and the Toronto Argonauts hosted pregame events and set off lures to attract fans and Pokémons.
Be aware that not all businesses, homeowners and others are happy with the foot traffic the game creates. The game's creator did remove at least one PokéStop from a socially sensitive monument, and one medical facility reportedly has asked that it be removed from the app and is attempting to ban players.
Consider Joining the Pokémon Go Bandwagon
With this popular augmented reality game, people are getting out of their houses, walking around and socializing. At some point, they're going to want to make a purchase, get a bite to eat or grab a drink — and they're going to want to talk about how they've been playing. If you're in charge of marketing for a business or not-for-profit organization, consider taking advantage of this craze.
But act fast. Like any trend, the popularity of Pokémon Go won't last forever. It may even start to wane in the coming month, especially during the daytime, as school-aged players return to school and teachers pile on the homework.