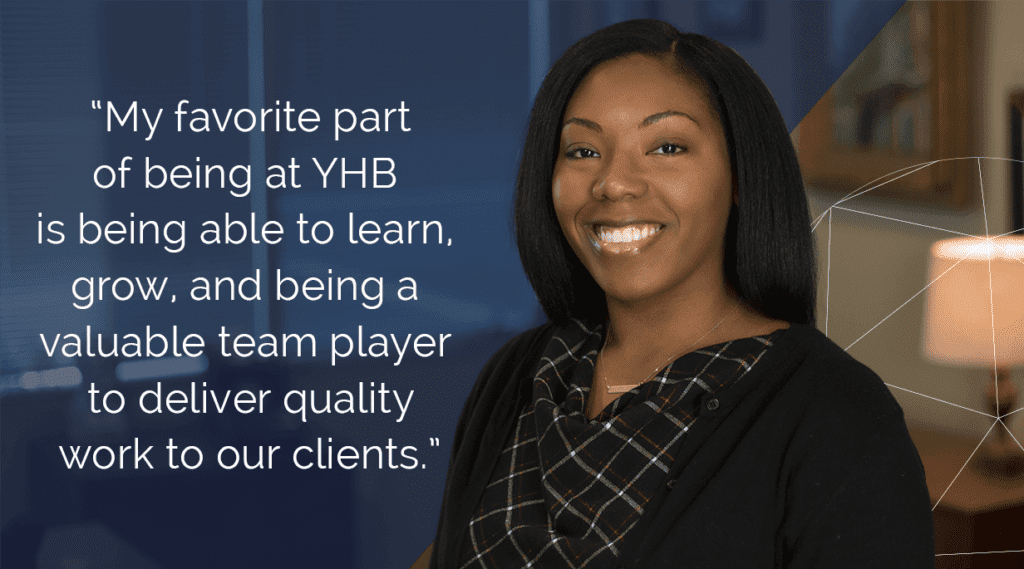 While our core values and community focus have remained intact for nearly 75 years of business, YHB's culture has come a long way. Creating an environment that allows growth, leadership, and adaptability has allowed YHB to celebrate and encourage employees to create their own path. From owning client relationships to finding a better work-life balance, we empower you with the tools and the community needed to take control of your career in public accounting. Felicity Morris, who works as a tax supervisor at YHB, is the perfect example of how leadership and growth opportunities can make all the difference.
What are some of the benefits of working at YHB vs a big 4 firm?
YHB is a smaller firm compared to a Big 4. The benefit to working at a smaller firm is that you are not treated like a number. You are valued here at YHB. Also, it is easier to network and build relationships at a smaller firm.
What brought you back to public accounting?
I always liked what I do (tax accounting) and I like the challenge that is gives. There is no typical day. Things are ever changing. Therefore, I know that I can grow as there is always something new to learn.
What surprised you at being at a firm YHB's size?
How appreciative YHB leadership is for the work that we do here at YHB. They are very transparent on firm meetings. Also, I believe leadership values your opinion pertaining to the betterment of the firm.
What would you say to someone considering leaving public accounting? (Or considering going back to public accounting after going private)
I would say that it would be difficult to obtain the flexibility that public accounting firms allow.
What is your favorite part of being at YHB so far?
My favorite part of being at YHB is being able to learn, grow, and being a valuable team player to deliver quality work to our clients.
If you're interested in learning more about our experienced career opportunities at YHB, click here.