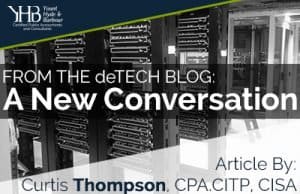 By: R. Curtis Thompson, CPA.CITP, CISA
What keeps you up at night? That is the common lead-in for a lot of sales-people and it is a good question. What issues do you really worry about at work? That may be a lot of things so let's narrow it down to just IT. Is it cybersecurity? Should we be in the cloud? Both worthy of sleeplessness but another worry people have is: "am I spending my IT money in the right places?"
Typically the CFO, or other management, develops the IT budget with the help of IT. The usual process includes asking how many new desktops are needed, what updates need to be done, or other questions about keeping IT going as it has. But there may be new investments to be made to make the business better or to cut future costs. So even if it is not time to discuss the budget, let's have a new conversation with the IT people. Start the conversation with this question: "What is the newest and coolest technology out today that could help our business?" After the required look of disbelief, listen to what they are telling you. IT people tend to stay up on technology and are interested in helping the business do well. They also know about the helpdesk calls they are getting and what could be your biggest problem that you don't know about.
Sure, the newest and coolest technology may not be what you are looking for and it may be too expensive to deploy but start there. You will definitely get the attention of your IT people. They want to be part of the team and to help make the business better. Like any good brainstorming session, discussing the things that are 'way out there' can bring people to a point of looking at new things that fit.
Once you get the conversation going, try asking for ideas about the problems you are facing from the business side. Ask them about SPAM, about problems you have with scheduling meetings, travel costs, or reaching your clients. Get them looking for technology solutions to your problems. Involve them in the process.
As we have said many times, IT is a critical part of your business so you need to include the impact of IT in most business decisions. Where better to get that input than your internal IT people.
***
Throughout his time at YHB Curtis has provided IT audit and consulting to clients, even while holding the position of the firm's IT director for several years. Now, as head of the YHB Risk Advisory Services Team, Curtis focuses on assisting organizations in a variety of industries with internal audits and IT-related audit and consulting services. Also, he frequently speaks and gives presentations on SOX compliance, internal controls, and data security.