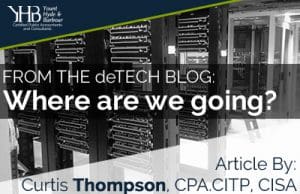 The demise of the PC has been discussed for some time. Consumers are more reliant on their smartphones and other devices for their internet consumption. A recent article on pcmag.com noted that the average home has at least seven devices connected to the internet; many having more than 10. Their survey also found that most home PCs were at least five to six years old and laptops are four to five years old. But how is this impacting business?
Last fall I had to have my chimney cleaned. Chimney sweeps have been around for hundreds of years and never expected a lot of technology to be introduced in such a mundane task. However, they showed up with a tablet and a special digital camera. They showed me pictures of every detail of the inside of my chimney as well as before and after photographs of the flue. I signed the invoice and they swiped my credit card right on the same device. Then I was emailed my invoice and receipt. The whole process made me feel comfortable in the work they performed and gave the process a very professional feel. So are tablets the future? Security is certainly going to be different than when we only dealt with Microsoft and a few Linux systems.
I think we will see more tablets working their way into work life but laptops are still going to be the work horse in most businesses for some time. It is not just tablets, the internet of things is impacting businesses and we need to keep thinking about security as we are adding new devices to our networks. It will be ever more important to keep IT involved as the internet is integrated in new things.
I saw an ad for a refrigerator the other day that had a touchscreen on the front and three webcams inside so you can see what is inside from your smartphone. Not sure why we need this but if this gets purchased for your lunchroom, let's make sure to keep it on the guest Wi-Fi and off the network.
The IT world has always been exciting. Things are always changing but I think we are seeing more uses for the internet and an ever-increasing number of devices connected. Printers have been connected for some time now but now things like thermostats, lights, refrigerators, etc. are getting connected so procedures should be established for including IT. We also need to be diligent in keeping an eye on what staff may be bringing in that may connect to the internet. We may need to start thinking about new policies or enhancing the BYOD policy to control what and how these devices are going to connect while in the office.
So, I started out talking about how to keep up with the regular changes in IT but as you can see, we are going to have to keep up with a lot more from now on!
***
Throughout his time at YHB Curtis has provided IT audit and consulting to clients, even while holding the position of the firm's IT director for several years. Now, as head of the YHB Risk Advisory Services Team, Curtis focuses on assisting organizations in a variety of industries with internal audits and IT-related audit and consulting services. Also, he frequently speaks and gives presentations on SOX compliance, internal controls, and data security.