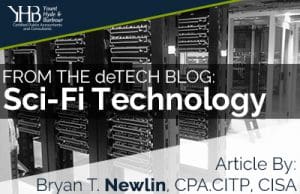 By: Bryan T. Newlin, CPA.CITP, CISA
Last week, IT auditors from around the globe descended on New Orleans, Louisiana for ISACA's annual North America Computer Audit, Control and Security (NACACS) Conference. This gathering of technical minds is the paramount event for IT auditors, where industry and thought leaders inform the direction and challenges of the IT audit industry. NACACS also serves to sharpen the focus of the Risk Advisory Services team on high profile IT audit issues, and to identify emerging trends and topics that may be integrated into our audit testing procedures in the coming months or years.
Between Bourbon Street, beignets and original Jazz music, NACACS had a lot to offer this year. But if there was one theme that I took away from the conference, it's that we are at the precipice of a huge shift in how we relate to technology, and this is going to have wide raging implications for IT and security auditing. These trends have not hit their tipping point yet, and may not be directly applicable to the deTECH readership, but strategically thinking business are already investigating how to use this sci-fi tech to disrupt their own business models. Here are some of the less mainstream technologies discussed at NACACS.
Sensors and Drone Technology
Drones, which are merely self-guiding technologies that interact and respond to their environment, are poised to change how we move and gather information. Self-driving hardware coupled with the proliferation of low cost, accurate sensors is going to automate tasks that currently require humans, and make tasks safer. For example, self-driving tractors could till, plant, and harvest fields. Sensors set in key areas of a farm can provide temperature, soil and moisture readings, cameras that provide real time video feeds of crop growth, etc. Warehouses can use inventory control systems and self-driving forklifts to have a lights-out warehouse. Consider the implications to cybersecurity when a network has thousands of independent sensors guiding and directing heavy, unmanned machinery.
Alternative Workforce
The emersion of the "gig economy" and "challenge based economy" will disrupt the traditional employer/employee relationship. In a challenge based economy, businesses identify a need, and put the challenge out for someone to solve it for a fee. Considerhttps://www.topcoder.com, a website were companies submit software challenges, challengers submit their solutions, and the company pays for the design or solution they like best. Think of it as crowdsourcing your work force.
Artificial Intelligence
Siri and I have a fractured relationship, at best. But artificial intelligence is continuing to make strides as computer systems learn and respond. Continuing with the farming example from above, if a back end computer can learn the geographical landscape of land, then equipment can respond by predicting the terrain and provide better fuel efficiency.
Blockchain
You've probably heard of bitcoin, but never blockchain. Blockchain is the technology that gives bitcoin its verifiability, and there is a lot of potential contained within. At its root, a public blockchain is a unique, verifiable global ledger of transactions. It allows two parties to establish trust where there is no other means to establish it. I concede that blockchain is a really new, hard to grasp concept; I am still trying to figure it out. But the implications are wide, so much so that it could significantly reduce the need for intermediary exchanges like escrow accounts, clearinghouses, etc.
This is a mere smattering of the technologies that await us several years from now. In the meantime, always be on the lookout for how businesses will be impacted by new trends, and how they can be leveraged into growth or new markets for your own business. So while you migrate databases to blockchain, we'll keep learning how to audit it.
***
Bryan is a Manager at YHB and serves on the Risk Advisory Services Team. Bryan focuses on assisting organizations in a variety of industries with internal audits and IT-related audit and consulting services.