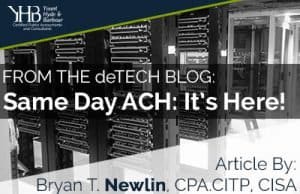 By Bryan T. Newlin, CPA.CITP, CISA 
On Friday, September 23, 2016 something exciting happened in the world of electronic payments. And, I can say with near confidence that no one has ever written that sentence in the history of sentences. Or electronic payments. But I digress. If you dig back in your archive of deTECH newsletters you will find on August 4, 2015 we wrote about an approved change to ACH rules that allowed for the long-debated Same Day ACH. And last Friday we passed the first key date for implementation.
These are the people who should continue reading this newsletter: business owners; payroll personnel; accounts payable personnel; accountants for small/medium sized businesses; accountants for large businesses, etc. The bankers have prepared, FinTech companies have coded, patched and updated, and same day ACH is now a reality. Here are some things that are applicable to you, and why you should be familiar with same day ACH.
What is Same Day ACH?
In a nutshell, same day ACH will allow ACH payments to be delivered to your bank and cleared by the receiving banks on the same day. Before Friday, the process to send a batch of ACH transactions took several days. Same day ACH reduces that window allowing businesses to keep their cash on hand for longer periods of time. Your bank will probably be providing new cutoff times for delivery of your ACH files, and if you provide files early in the day, they may be eligible for same day ACH. Of course, there will also be increased costs associated with the faster delivery of payments.
What Kind of Transactions Are Effected?
The first phase of same day ACH is limited to Credits-money flowing FROM an originator TO a receiver. ACH debits do not begin until September 15, 2017. So your Target Debit card won't be seeing a change quite yet. ACH credits include some of the most common ACH transactions including payroll and vendor payments. Furthermore, same day ACH is limited to individual transactions less than $25,000. Note that there is no limit on the aggregate value of a batch of same-day ACH transactions. In theory, this could also include consumer bill payments. Instead of taking two days to transmit an ACH payment your cell phone/water utility/credit card payment could be received and credited to your account the day you schedule the bill pay transaction. Finally, international transactions don't get the privilege of Same Day ACH, so IAT entries don't get to play.
That Sounds Amazing! Where Do I Sign Up?
Calm down, it's not that exciting. Banks that originate ACH transactions are not required to participate in same day ACH transactions, so contact your friendly community banking professional for more details. But you do need to be aware that same day ACH is ultimately driven by two pieces of information: TheEffective Entry Date and Deposit Date/Time. If the effective entry date is the same day as your deposit (or earlier), and you submit your ACH file early in the day, then you've just originated a same day ACH. That effective entry date is often overlooked, so pay close attention at the beginning of the year to update the date fields in your ACH files.
Same Day ACH will develop and mature over time, so it is worth doing some research and staying aware of the benefits of the service. The payments industry is changing at a very rapid pace, and ACH is the rails over which most transactions run so learning all you can about the benefits could give you and your business a competitive advantage.
***
Bryan is a Manager at YHB and serves on the Risk Advisory Services Team. Bryan focuses on assisting organizations in a variety of industries with internal audits and IT-related audit and consulting services.